While Amazon continues to play a bookish version of the childhood game Keep-Away with certain Hachette titles, other booksellers in the U.S. are quite happy to step in and showcase their own ability to fill the retail gap for Amazon's customers.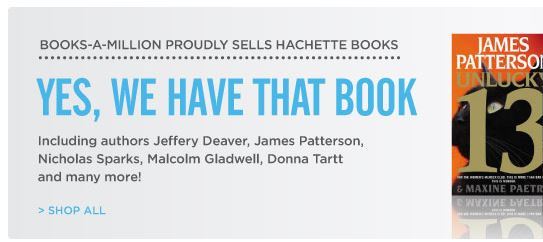 On Books-A-Million's website, a banner proclaims that the chain "proudly sells Hachette books." CEO and president Terrance G. Finley said, "Books-A-Million values our partnership with Hachette Book Group and has been selling their books throughout our history, and we will continue to do so, both online and in our more than 258 retail locations."

On Facebook over the weekend, [words] Bookstore, Maplewood, N.J., shared Friday's New York Times piece and noted that the shop "proudly carries books published by the Hachette Book Group. Buy uncensored books from Hachette and other fine publishers at wordsbookstore.com Please read this disturbing article!"

Later, [words] added: "Protect authors, including Maplewood favorite Stephen Colbert. Buy Hachette and other fine books now while you still can from wordsbookstore.com and other indie retailers. Stop America's 'Putin' now."



Several indie booksellers took to Twitter and shared their reactions, including:
Porter Square Books, Cambridge, Mass.: "We both fulfill Hachette orders AND have cheap e-books. I know, weird, right. http://www.portersquarebooks.com/sale_ebooks."

Unabridged Bookstore, Chicago, Ill.: "We sell Hachette titles! No line, no waiting, as they say at the Supermarket."

Northshire Bookstore, Saratoga Springs, N.Y.: "Interesting--Amazon delaying shipping @HachetteUS books. All the ones mentioned in the article are in stock here."

Green Apple Books, San Francisco, Calif.: "Not only do we have thousands of @HachetteUS on the shelves, you don't have to wait even a day to get them!"

Oblong Books & Music, Millerton and Rhinebeck, N.Y.: "We proudly carry many @HachetteUS titles. Come in & buy one today!"

Childrens Book World, Haverford, Pa.: "Looking for great @HachetteUS books that @amazon has delayed? We have them, or can get them in just a few days!"

And from publisher Small Beer Press last Friday: "Who doesn't do hatchet jobs on Hachette and is shipping today? Every Indie Bookshop!"

While booksellers can take action individually, there are limitations regarding what they can do as a group. "We are extremely restricted in what we can do and say," Thom Chambliss, executive director of the Pacific Northwest Booksellers Association, told Seattle Weekly, adding that the concern "is that any group action would be interpreted as promoting a boycott of Amazon, and that would be a violation of anti-trust laws."