I loved this one. Okay, had no clue what I was getting beyond finally finding another fantasy genre book by the author of a fave series that started with The Glasswrights' Apprentice. I won it in LibraryThing's Early Reviewer giveaways (a wild hair had me glance at them and spotted this one).
Turns out it is a Middle Grade read with a just-turning-12 heroine. Glad I didn't know that going in. On the other hand, the pacing and subject matter really read a bit intense for MG audience. Had an air of many fairytale and fantasy books set in small villages.
The worldbuilding is a fantasy setting where (not a spoiler, right at beginning and in synopsis) children are bonded to animals -- dark beasts -- a few days after birth so the animals can absorb all their rebellious and bad feelings/thoughts. On their 12th birthday, they are expected to sacrifice their dark beast.
But, Keara loves her Raven, Caw. She cannot bring herself to sacrifice her friend and instead runs off with a troupe of traveling players. Now caught out, she and other "darkers" are seeking rumored sanctuary.
I liked the ensuing adventures, the characters, the worldbuilding, the story telling ... I did have to stop thinking "so really, no one in troupe or villages passed thru thinks a 12-year girl shouldn't be out n her own?" This one really moved along from one exciting (not always happily) adventure to another; faster paced and more intense than the first in series.
Ended sort of with a whimper, though. I was expecting more story even though a logical place to end the book.
* It was previously published under a different pseudonym (probably how I missed out) as: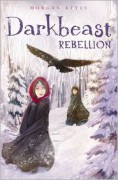 Darkbeast Rebellion - Morgan Keyes
Ratings scale used in absence of a booklikes suggested rating scale:

★★★★★ = All Time Favorite
★★★★½ = Extraordinary Book. Really Loved It.
★★★★☆ = Loved It.
★★★½☆ = Really Liked.
★★★☆☆ = Liked.
★★½☆☆ = Liked parts; parts only okay. Would read more by author.
★★☆☆☆ = Average. Okay.
★½☆☆☆ = Disliked or meh? but kept me reading in hopes would get better.
★☆☆☆☆ = Loathed It. Possibly DNF and a torturous read.
½☆☆☆☆ = So vile was a DNF or should have been. Cannot imagine anyone liking. (Might also be just an "uploaded" word spew or collection that should not be dignified by calling itself a "published book." If author is going batshit crazy in the blogosphere over reviews -- I now know why they are getting bad reviews. Or maybe author should take remedial classes for language written in until basic concepts like using sentences sink in. Is author even old enough to sign a publishing contract or do they need a legal guardian to sign for them?)